Universidades dos Estados Unidos

Instalações do Rensselaer Polytechnic Institute, em Troy, estado de Nova York. Fundado em 1824, é uma das mais tradicionais escolas de engenharia dos Estados Unidos. Aqui estudou o baiano Antônio de Lacerda, o idealizador e construtor do Elevador de Salvador, que leva seu nome.
A Rotunda da Universidade de Virginia, em Charlottesville. A primeira universidade não sectária dos Estados Unidos, fundada por Thomas Jefferson, em 1819.
Acima, campus da Universidade de Yale, no estado de Connecticut. Entre as mais prestigiadas do mundo e uma das mais antigas dos EUA. Yale tem mais de dez mil estudantes. Embaixo, Commencement Convocation no Greek Theatre da UC Berkeley.
Campus da Universidade de Harvard, em Massachusetts, vendo-se a Widener Library, ao fundo (© Harvard Public Affairs & Communications).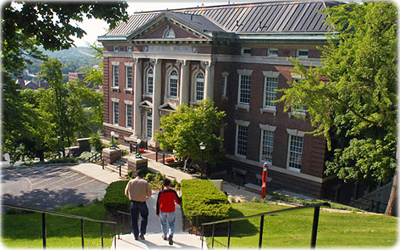 Universidades nos EUA

Columbia University, Nova York

The Rockefeller University, NY

Fordham University, jesuíta

Harvard University, Massachusetts

Stanford University, Palo Alto

Suffolk University, Boston

Johns Hopkins University, Maryland

University of Texas, Austin

University of Minnesota, Twin Cities

University of Colorado Boulder

Northeastern State University, Oklahoma

Ass. of Jesuit Colleges and Universities

Escolas de Arte da California►

Copyright © Guia Geográfico - Cursos e Intercâmbios para estudantes.